Next month's Welsh Dairy Show will showcase dairy animals from across Wales and the borders. It will also feature small and large businesses promoting all aspects of the Welsh dairy industry.
The Show will go back to its traditional format this year, with the Calf and Handler element starting at 6pm on Monday, 23 October 2017, on the United Counties Showground, Nantyci, Carmarthenshire.
Judging of the various classes within the Holstein, Jersey, Dairy Shorthorn, Ayrshire, Guernsey, Brown Swiss and Forage sections of the Welsh Dairy Show will commence at 9.30am on Tuesday, 24 October 2017.
At 10.30am the Cabinet Secretary for Environment and Rural Affairs, Lesley Griffiths AM, will officially open the Show, in the main ring.
Between midday and 1pm the Show's Awards will be presented in the main ring including the NFU Cymru / NFU Mutual's Welsh Dairy Stockperson of the year Award and the FUW / HSBC Outstanding Service to the Welsh Dairy Industry Award.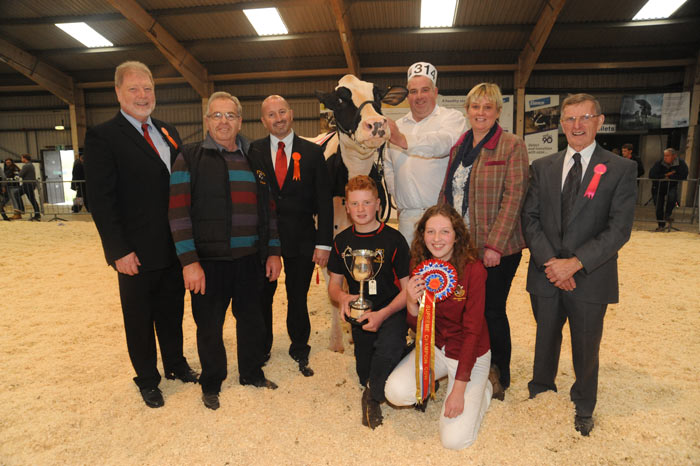 The Welsh Dairy Show has also run an art competition, for the second year, in the run up to the event. This year primary school pupils from across Wales were asked to draw a colourful picture on A4, which illustrated all the different products that can be made from milk including cheese, cream, yoghurt, butter and ice-cream.
The President of this year's Show, Mansel Raymond, who farms at Jordanston hall, Haverfordwest, will announce the overall all-Wales winner of the competition at approximately 12.30pm in the main ring. The winner will receive £50 and a year's supply of cheese from the Carmarthenshire Cheese Company and their school will receive £100. The second-place school pupil will receive £35 and the third-place pupil will receive £15.   
Following the Award presentations, the children will take part in a cookery demonstration with Lisa Fearn from Carmarthenshire's Pumpkin Patch kitchen and garden school. Lisa will help the children make their very own pizzas with a cheese topping.
Entry to this year's Welsh Dairy Show is £12 and is payable on the gate. There is a chance to win two tickets to this year's Show on the event's Facebook page or the United Counties Showground Twitter page
Mair James, organiser of the Welsh Dairy Show, said,
"We have something for all the family at this year's event. As well as the traditional trade stands which deal with everything related to the Welsh dairy industry we also have cookery demonstrations for our younger visitors and more craft and jewellery stalls for the ladies. We look forward to seeing you all there."