Lucky school pupils from Ysgol Gynradd Cwrtnewydd, Llanybydder, Ceredigion, were shown how Hafod Cheese is made during their visit to Holden Farm Dairy at Bwlchwernen Fawr Farm last week. The trip was the school's prize after one of its pupils, Megan Davies, aged 8, won the Welsh Dairy Show's 'Story of Milk' poster competition.
The Year Four pupil won the competition for her colourful illustration of how milk travels from the farm to the fridge entitled 'Taith y Llaeth'. Megan's winning drawing appeared on the front cover of the Show Catalogue which was given to the 1,000s of visitors to the show on entry.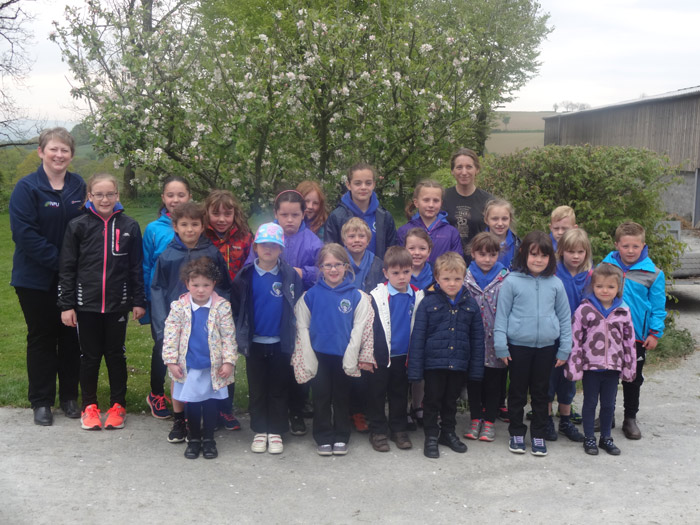 Megan's prize consisted of tickets for her family to visit the Welsh Dairy Show; £75 for Cwrtnewydd Primary School, which was sponsored by Mole Valley, and a trip for her class to visit Holden Farm Dairy. As there were less than 20 pupils in the whole school they all went on the trip. Local NFU Mutual Group Secretaries, Heather Holgate in Tregaron and Aled Davies in Aberaeron, sponsored the bus which took the school pupils to see how Hafod Cheese is made with the milk from the farm's herd of Ayrshire cows.
Heather Holgate went on the trip with the school pupils, she said, "We were delighted to be able to help with the cost of the trip for Cwrtnewydd school. It was fantastic to see how much the children enjoyed learning about how cheese is made."
Ysgol Gynradd Cwrtnewydd Headteacher, Carol Davies said, "We are very lucky to have such amazing artists amongst our pupils. We are very grateful for all the prizes we won as a result of Megan winning. We will certainly be entering the competition again this year."
Hundreds of students of all ages, from across Ceredigion, Carmarthenshire and Pembrokeshire entered last year's competition. Mair James, Organiser of the Welsh Dairy Show said, "Last year's art competition was such a success that we have decided to do it again this year. We will be launching a new poster competition on 1 June 2017 and this time we will be asking primary school children from across Wales to enter. The prizes this year include a year's supply of cheese, a sports drink bottle and £50 for the individual winner aswell as £100 for the winning school. More details will be available on our website: www.unitedcounties.org.uk from 1 June."